Selling Beer Cans
Posted: 6/6/2008 • Last Updated: 12/10/2015
Selling Beer Cans
Beer can selling can be divided into two main groups: online selling and offline selling.
Selling Beer Cans Off-line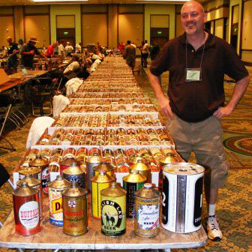 A substantial percentage of quality antique beer cans get sold at venues other than the internet, mostly at beer can trade shows or by telephone. The Brewery Collectibles Club of America does an outstanding job of organizing tradeshows for beer can collectors. Dozens, and even hundreds, of buyers and sellers get together at these shows. Drop us a note if you'd like info on a show in your area.
Selling Beer Cans On-line
There are many web sites dedicated to beer cans that have owners eager to buy beer cans. Most of these web sites claim to pay more than anyone else for beer cans but simple logic dictates that only one of these many cliams can be true. Other web sites claim to be owned by neutral collectors or to be for reference purposes but these sites also may be interested in buying cans for resale. If the seller of the can is unaware of its value, selling in such an environment can be risky.
Ebay is another on-line option but sellers are left to the mercy of the buyers who show up the week of their auction and can be undermined by collusion among bidders. More often than not, beer cans bring far less than fair market value on ebay.

Breweriana.com provides the best options for sellers of valuable beer cans and breweriana. Browse around our site for proof. We operate with transparency. You'll be able to search our free database to view actual retail list prices for cans. If you don't find your can in our database, contact us and we likely have the relevant information for your can which we will be happy to share with you. We empower sellers with complete knowledge of their items and then work with sellers on even ground. We also encourage sellers to research their cans on sites other than Breweriana.com. Once you've done your homework on Breweriana.com and you've also investigated prices other web site owners and ebay bidders are willing to pay, please contact us and let us present your best options for selling your beer can or other beer advertising piece. We are happy to make you our best offer to purchase your item (we rarely get outbid for quality items). Or, some sellers prefer to consign their cans and other items to Breweriana.com. This can be arranged for select, quality cans. If we feel ebay or another venue would be best for your particular items, we will advise you accordingly. We hope you enjoy your visit on Breweriana.com and welcome your email or phone call (toll free: 1-888-423-3722) if you have any questions or would just like to talk about beer cans and breweriana.

Print This Page