3800 Can Collection Acquired by Breweriana.com
Posted: 4/18/2009 • Last Updated: 11/9/2009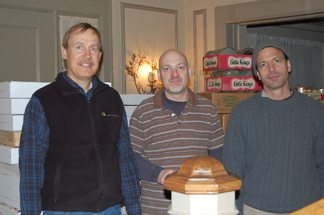 Breweriana.com purchased a collection of about 3800 beer cans from four friends who collected when they were children in the 1970s. The children (Paul Dybvig, Howard Shook, Pete Houk and Tom Cote) lived in the Dayton, Ohio area and called their joint collecting operation the "Cash Can Collecting Co."
Represented in this collection of about 3800 old beer cans are cone tops, flat tops, self-opening cans, gallons, quarts, small cans, pints, US cans, Non-US cans, rare cans, common cans, minty cans and dumpers...a little bit of everything.
Prior to contacting Breweriana.com, the four collectors had various offers and expressions of interest in buying or consigning their collection.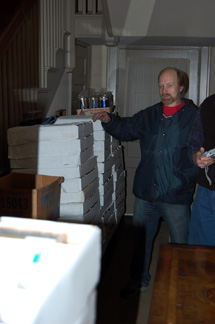 After a visit and appraisal of the collection by Breweriana.com, the group decided to accept Breweriana.com's offer which was significantly higher than any others they had received.
Each can had been individually wrapped in cellophane and stored in a dusty attic since the 1980s. Just unwrapping the cans involved 4 days of labor! Alphabetizing the cans took another 4 days, and cleaning them is an ongoing process already passing the 100 labor hour mark! Watch Breweriana.com as these cans are added to the site throughout 2009.
The collection had many sleeper cans including a Buckingham Ale beer can by Wehle, a gold Crystal Rock can from Cleveland, a different red Red Cap Ale flat top from Cleveland, and many unusual flat tops and self-opening non-US cans. There are about 50 Bock cans, 1000 flat tops, a couple hundred cone tops, couple thousand self-opening cans and many odd-size cans.

Print This Page