Billy Beer Can
Posted: 11/10/2009 • Last Updated: 2/24/2015
How much is a Billy Beer can worth?
President Jimmy Carter's younger brother, Billy, promoted beer in his name. The brew was first introduced by the Falls City Brewing Co. in Louisville, Kentucky in 1977. It was also produced by the Cold Spring Brewing Co. in Cold Spring, Minnesota, by the West End Brewing Co in Utica, New York, and by the Pearl Brewing Co. in San Antonio, Texas.
Text at the top of the can reads "Brewed expressly for and with the personal approval of one of America's all-time great beer drinkers -- Billy Carter." Toward the bottom, above Billy's signature is the claim "I had this beer brewed up just for me. I think it's the best I ever tasted. And I've tasted a lot. I think you'll like it too."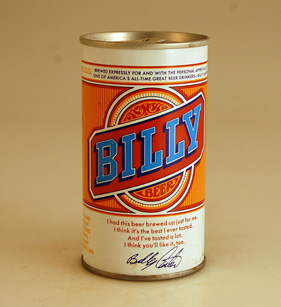 Reports have it that the beer actually tasted lousy.
Even though over two billion cans of Billy Beer were produced, there was a frenzy for them by beer can collectors and every would-be entrepreneur. At the time, it seemed to be an accepted pop-culture norm that Billy Beer cans were valuable.
Well, it turned out to be not the case. On a good day, if you can find a willing buyer, it might fetch a dollar.

Print This Page