History of Breweriana.com
Posted: 6/6/2008 • Last Updated: 10/8/2014
History
The business now known as Breweriana.com was started in 1995 by the author, a collector with 30 years experience in the hobby. The business was started in a Malden, Massachusetts living room, where there was a computer tapped into the internet and walls full of beer cans and breweriana.

The Breweriana.com web site was first launched in 1996. At the time, there was only one other retail beer can/breweriana web site on-line (which is long out of business). So, Breweriana.com is the oldest retail beer can and breweriana web site now on the internet.

Over the years, Breweriana.com has grown, one satisfied customer and one satisfied seller/consignor at a time.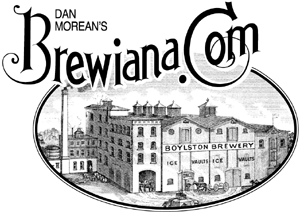 Today Breweriana.com is the beer can and brewery advertising leader, both on-line and off (see "Collections/Items We've Handled"). Thousands of customers world-wide appreciate finding rare items on Breweriana.com and hundreds of sellers and consignors have enjoyed profitable and smooth transactions with Breweriana.com.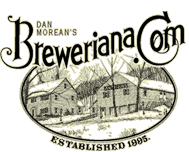 Several people do the work that goes into keeping Breweriana.com at the top of the heap. My beautiful wife Julie (with her 4.0 GPA MBA) provides unlimited "free" marketing and business consultations. Ron Small has 30 years of experience and a vast knowledge of beer cans and breweriana.   Krystelle Tolentino asssists with web page updates and tradeshows.  We have 4 web site development contributors. And, last but not least, David Waugh is in charge of Breweriana.com's design work (he can not be blamed for the earliest two logos above...those were pre-David). Finally, the author eats, sleeps, drinks, and breathes beer cans and breweriana--anything to help keep this recovering lawyer out of a suit and tie!
All the work we put into Breweriana.com is with an eye toward being in business decades from now. We have no desires or plans to take over the universe...just to keep doing what we're doing and to do it better and better as time passes. We value the relationships we've made with buyers and sellers over the years and we see these mutually successful relationships as the spring-board for continued success.

Print This Page