Brick & Mortar Store
Posted: 6/6/2008 • Last Updated: 4/29/2017
Brick & Mortar Store
The internet is just one of many avenues we use to display and promote beer cans and breweriana. The best way to see the most current and complete inventory of Breweriana.com is to visit our 5,000 sq. ft. antique beer can and breweriana store in Brimfield, Massachusetts.
Breweriana.com's brick and mortar location has six rooms.
Flat Top Showroom
The showroom to the right displays mostly flat top beer cans and post-prohibition beer advertsing. This 1000+ square foot room displays the flats in self-lit, turn-of-the-20th-century country store display cases. The cans in these cases all are from the 1930s, 1940s and 1950s...nothing newer. Sparkly clean instructionals and non-instructionals dazzle viewers with their bright colors, graphic appeal and antique aura...breathtaking to the collector!
Cone Top Showroom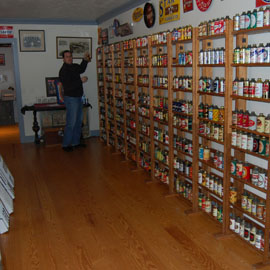 The cone top display room to the left features 500 square feet of cone top beer cans and breweriana. Here you'll find the world's largest selection of top grade and rare low profile, high profile, flat bottom inverted rib, and J-Spout cone tops.
A few minutes into his visit, the customer in the photo to the left informed me that he was afraid he "...died and went to beer can heaven."
Pre-prohibition Tavern Room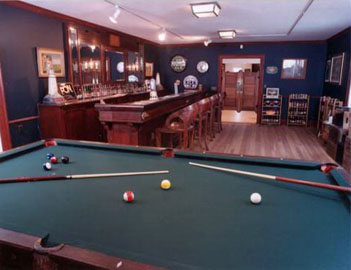 Don't miss our reproduction of a late nineteenth century tavern, featuring rustic hickory floors, dark cherry molding, a 16' antique mahagoney bar and backbar, an 1880s Brunswick novelty pool table, and walls covered with some of the rarest and highest condition pre-prohibition beer advertising available anywhere.
The photo to the right is a snaphshot of this tavern room in mid-2005. The inventory changes frequently and the breweriana displayed in this room as of this writing is almost entirely different.
Crowntainer/Bottle Showroom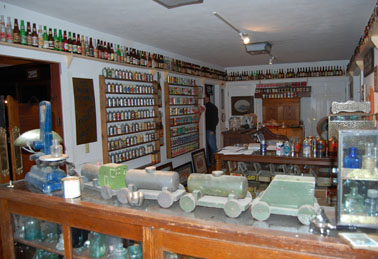 The room to the left displays mostly crowntainers, quarts and beer bottles.
Another room displays mostly post-prohibition breweriana and another room is dedicated to photography and packaging.
Breweriana.com's store is the only shop in the world dedicated solely to high grade, early and rare beer cans and breweriana.
We hope you will viist us when you are in the area. Our central New England location is convenient to much of Massachusetts, Connecticut, Vermont, New Hampshire, Rhode Island and New York. We are about 65 miles from Boston, MA about 50 miles from Hartford, CT about 100 miles from Manchester, NH, about 60 miles from Providence, RI, and about 160 miles from New York City.
Hours: By appointment only.
Phone: (617) 448-2300.
Address: P.O. Box 324, Brimfield, MA 01010.
Directions: From whatever direction you are driving, chances are you will need to get to the Massachusetts Turnpike (Rt. 90).
If you are coming from West of our location (eg: from 91 or Albany), take Rt. 90 to Exit 8. At the end of the ramp, take a right on 32 for 7/10 mile. Take a left on 20 and travel east for about 8 miles. About 1/10 mile after passing through the only stop light in Brimfield, Breweriana.com will be on your left set up on a small hill in a large, barn-red building.
If you are coming from East of our location, take Rt. 90 to Exit 9. Follow the signs for Rt. 20/Brimfield. Take 20 West for about 7.5 miles. When the speed limit slows from 55, then to 45 and then to 25 MPH, you'll go around a bend to the right. Breweriana.com is located on the right, on a small hill, in a large barn-red building. If you get to the only traffic light in Brimfield, you just passed us!

Print This Page