Narragansett Collection
Posted: 7/11/2008 • Last Updated: 4/13/2009
Introducing...the Rick Poore Narragansett collection, a Fine Collection from a Fine Friend...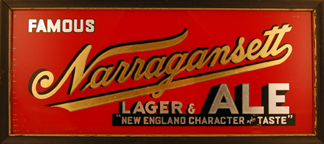 New England collectors know well that quality Narragansett items are highly desirable but rarely become available. The universal appeal of Narragansett items is a result of unprecedented elegance of design, most frequently represented by the long, flowing, curved, well-proportioned and balanced Narragansett letters on a backdrop of handsome reds, hunter greens, gold and copper colors. Some of the Narragansett artwork was developed by Dr. Seuss (Theodore Geisel), a Dartmouth roommate and buddy of Haffenreffer, one of the former Narragansett brewery presidents. I can think of no other brewery whose beer can and beer advertising designs are more graceful.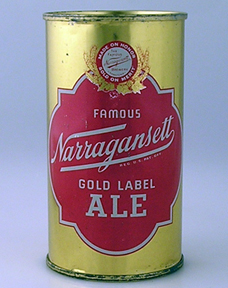 The overall condition of the Narragansett cans, signs, trays, and other breweriana in this collection is exceptional. Most of the cans rank among the very best examples known, including the ultra rare Narragansett Pale instructional, the Narragansett Light, the William's Purple Cow, and some rare zip tops and test cans. Some of the cans in this colleection are relatively common in grade 1- or 2+ condition but are rare in 1/1+ or A1+ condition.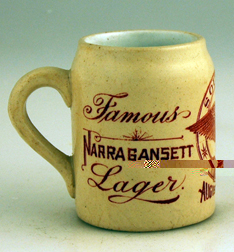 Rick Poore is a good friend of mine. He was a leading dumper in the early years of the hobby who had finds such as the very respectable Narragansett Light flats (that had been previously unknown), an Arbee cone, a White Cap cone, Stroud Ale, the Pabst Bocks flats and an Indian Queen cone. The Pabst Bocks and the Indian Queen were such clean dumpers they could be graded a 1 or better. He also turned up many wonderful indoor cans, including the the Stock Ale by Croft flat top (that had been previously unknown), the 17 Old Oxhead Ale crowtainers (only 1 was known prior to this find), Ruppert Ale cans, a minty Germantown, a minty Feigenspan Bock, and many other great cans.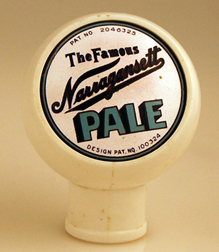 Enjoy browsing the Narragansett items hitting the pages of Breweriana.com this week.
Yours truly, Dan Morean.

Print This Page