Vintage Anheuser Busch
Author: Donna Baker
Publisher: Schiffer
Date of copyright: 1999
Size/Type: 8 1/2" x 11" Full color paperpack book, 160 pages
Condition/Comments:
If you have an affinity for beer in general and for Budweiser in particular, then rest assured, "This Book's for You!" As beer-lovers well know, Budweiser is the world-renowned brand that has been brewed and distributed by Anheuser-Busch for more than a hundred years. Its popularity is no less strong today than when it was first introduced in the late nineteenth century. It's no wonder that Budweiser memorabilia and collectibles are among those most favored and sought after by breweriana lovers today.Vintage Anheuser-Buschr celebrates the early years of this prolific and highly successful company, one which grew from a small St. Louis partnership into the prevailing leader of the brewing industry today. Over 400 beautiful color photos trace Anheuser-Busch's colorful advertising from the late 1800s through the mid-twentieth century, as depicted on lithographed prints, signs, trays, calendars, mugs, coasters, corkscrews, matchsafes, jewelry, and more. In addition to Budweiser, you'll find a host of items featuring other products from Anheuser-Busch, such as St. Louis Lager, Faust, Malt-Nutrine, Bevo, and Ginger Ale. Many of the items shown date from the company's earliest beginnings and have rarely been seen. Current values for all are included in the captions. This book is a nostalgic treat for beer-lovers everywhere, so pour yourself a cold one, sit back, and drink-er, read up!
$35.00


Availability: 1 In Stock
SKU: 101154
Category: Breweriana Books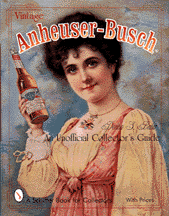 Print This Page
Ask a question about this product